Ayush
Eternally Curious. Writing, Learning, Building in Public. Writing about Ideas + Inspiration + Insights for creators, solopreneurs and indie hackers | Simple tips and frameworks to help you build a sustainable solo business
Related to Authors (1) (Content)
"There are only 2 ways to make money - Bundling and Unbundling."
You must have seen this quote before, it's from Jim Barksdale - the founder of Netscape - one of the very first internet browsers ever.
It's profound - so much wisdom in so few words.
Truly a Superframework worth applying.
We're in a constant flux of businesses thriving by either bundling a variety of offerings, or unbundling niche offerings from a larger bundle of offerings.
It makes a lot of sense.
And the first time we think of this framework, we start to come up with a number of features we can bundle together in our products.
Bundling sounds exciting, you want to provide a ton of value to your customers for a low price. It's a no brainer.
But…
There's a dark side to bundling.
It can water down your offer, make your product extremely generic, and make it lose all it's appeal - especially when you're starting out.
For solopreneurs, indie hackers and creators, unbundling a larger business makes a lot more sense than bundling a bunch of features together.
It helps you sharpen your positioning.
Let's look at a few unbundling opportunities -
---
Unbundling Opportunities - SaaS Products
A good way to find unbundling ideas is to look at pricing tables of extremely successful SaaS companies.
They're usually so complicated that a lay person wouldn't be able to make up their mind about what they actually need.
And that's where lies an opportunity to take a single feature and build a SaaS around it.
Look at the mid tier offer -
Each of them is a legit SaaS business in itself. Pick one, and build it for a single niche.
And this is just the pricing page for it's marketing products for individuals and small teams.
There are at least 8 different pricing configurations on that page that you can look at.
Pick niche features from here and build for niche communities of users who might need it.
To better understand the problem, it would make sense to go into forums and communities where users of these products hang out and observing their conversations.
There are Subreddits and Facebook groups you can go to, but Hubspot and Intercom both have their own user communities which are worth exploring as well.
---
Unbundling Opportunities - Info Products
This is from the most popular digital marketing course on Udemy -
It has 16 sections -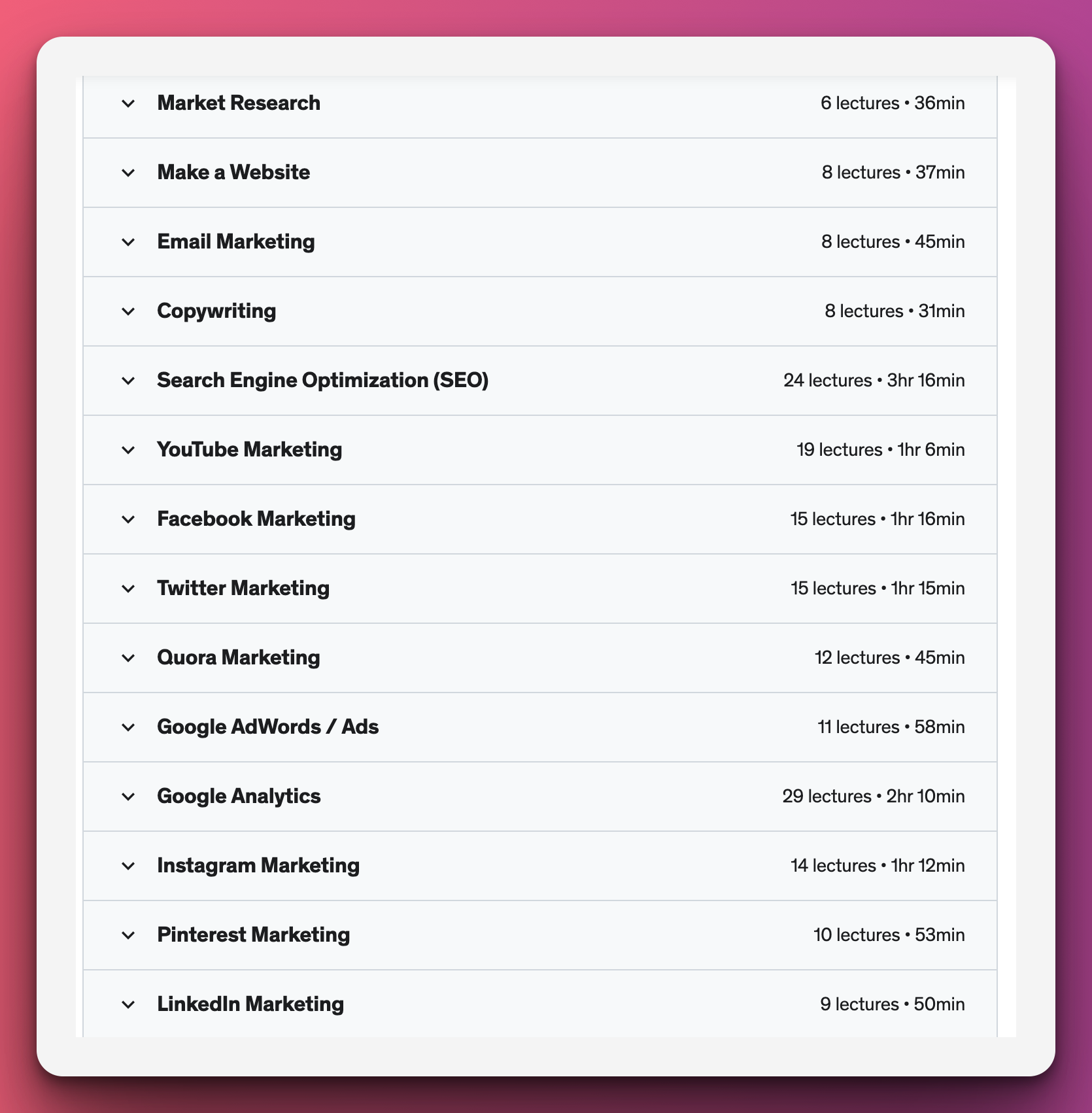 Each section is a course in itself.
Successful course creators on Udemy often bundle up all their popular courses and offer them as a single course.
Search on Udemy with they keyword - "Courses in 1". (
link
)
Here's another one around productivity - 7 courses in 1.
Each of them is a course or e-book on it's own.
So do this -
Look at the course bundles being sold on Udemy
Make a course/e-book/community around it.
You can also do this for popular info products on other platforms like Gumroad or Amazon.
The goal is to figure out the most popular bundles and unbundle single sections into standalone courses/e-books.
(Do check out
the info product playbook
if you're starting from 0 and need help on how you can launch a valuable info product in 2 weeks)
---
You can even do this for a newsletter business.
Look at 2 of the most popular AI newsletters right now -
Both of them have multiple sections -
Curation and commentary of the day's AI news
A tutorial about an AI topic
Miscellaneous AI industry content
You can easily pick just 1 section out of these and build a newsletter around it.
If you don't like AI, look for the most popular newsletters in your industry and "unbundle" them.
---
It solves the same problems, but in a more high touch manner. High signal, low noise, personalized attention is my focus.
---
Further reading -
Great graphic from the unbundling excel article -
Thank you for reading, hope you found this useful.
---
🔗 Super Links
Useful links you don't want to miss -
(
*Links in bold are classified ads, to reserve your spot, please send me a
DM on Twitter.
)
---
🤗 How can I help?
Want more help? Work with me 1:1, share what you need help with, and book a strategy session with me. Let's figure out the perfect next steps for YOU.