Ayush
Eternally Curious. Writing, Learning, Building in Public. Writing about Ideas + Inspiration + Insights for creators, solopreneurs and indie hackers | Simple tips and frameworks to help you build a sustainable solo business
Related to Authors (1) (Content)
Taggun is a simple OCR API SaaS making $19k/month.
The biggest lesson from it's success?
Your startup doesn't need to be fancy.
You just need to build a simple solution to a painful problem.
Taggun is a simple API app that other apps can use to extract accurate information from invoices and receipts.
Taggun has a wide range of features, and you read how it works in the detailed
case studies
on their website. But a few things stand out -
They automate the menial boring work for big companies.
They offer custom models for their larger custoemers.
The customizations they build for one customer, end up being re-used by other customers.
These are the custom AI models Taggun built for a financial company Ramp.
Pretty sure they can re-use these models for other customers as well, while still offering them a customized experience.
I like to call this Standardized Personalization.
Where on the backend, youre implementation of a solution is standard and repeatable, but on the frontend you're able to offer a truly personalized experience.
When you offer a personalized experience, you can charge a lot more, because it's not a cookie-cutter experience anymore.
I've written more about standardized personalization
here
.
My favorite lesson from Taggun's success is the founder's hustle -
He didn't get any traction.
For 1 year…
But he kept going and kept trying different channels before starting to see some traction.
After reading so many of these stories, I've come to accept that all of us are going to have that year or 2 of pure struggle and failure. So it's best to start taking action and dive deep into it instead of trying to avoid it.
You can read the initial Taggun journey in the 6 public posts the founder has written
on Indie Hackers.
Hope this inspires you a little. Do tell me what you think of it in
this Tweet.
---
How to build new features
Bhanu
(founder of SiteGPT and Feather) shared this nugget of wisdom in the
Indie Masterminds
Slack last week -
Wait for enterprise customers to request features
Build for them, get them to pay
Test and iterate with them.
And then release it for everyone.
Brilliant!
Now wonder he's doing so well with both his businesses.
---
Don't hate the books hate the reader
Last week I was seeing a lot of criticism of this picture of the best self help books to read.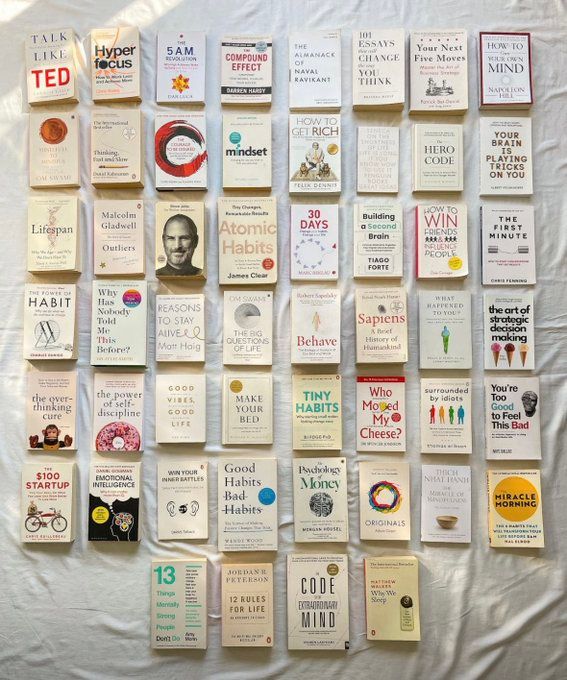 If all you do is read and don't take action then this is just productivity porn.
But if you are self aware and have the ability to act on what you learn here, then this is Gold.
It's not about the books, it's about YOU.
True for everything in life!
If you want to grow, read good books and take action on them 💪
What do you think? Do you read/hate books?
---
3 things that matter the most
Look for these 3 things when starting a new idea
From $100M offers by Alex Horomozi -
We had a great conversation about this book in one of the Indie Masterminds events. You can
join today
to watch it.
(Along with all
the other
webinars and workshops)
---
That's it for today folks. Hope you found this useful.
If you did, please share it with a friend. And do signup to receive more such posts every week in your inbox.
---
🔗 Super Links
Useful links you don't want to miss -
If you care about the strategy, frameworks, tactics and psychology of entrepreneurship, then you must read A Smart Bear newsletter. It's genius!
19 failed products and 1 successful product - a boring B2B productized service.Great Lessons from Alex West. Must Watch!
(
*Links in bold are classified ads, to reserve your spot, please send me a
DM on Twitter.
)
---
🤗 How can I help?
Whenever you're ready, here's how I can help you -
Join the tiny community for your big dreams We support, inform, educate and inspire each other every day. We are a tight knit group of indie hackers and solopreneurs working on our projects. We would love to have you. Entrepreneurship is hard, don't do it alone. Come join us!
💸 An info product can set you free, it can help you grow your audience and income. Learn the step by step framework to build and launch an info product in 14 days. Buy Now